Heartbeat of NASCAR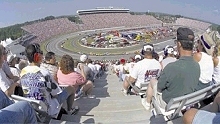 Founded in 1947 by the late H. Clay Earles, Martinsville Speedway is only track which has hosted NASCAR Sprint Cup Series races every year since the division's inception in 1949.

At .526 miles in length, Martinsville Speedway is the shortest track on the Sprint Cup circuit. But because of its size and shape – described most often as the shape of a paperclip – Martinsville offers some of the most exciting and close racing in the sport.

Also because of its size, fans are closer to the action than any other track. The cars are never more than a few hundred yards away and sometimes they seem close enough to reach out and touch.

The track is also one of the most modern, with high-rise aluminum chair back seating, corporate and fan suites and state-of-the-art facilities for the media.

In a recent poll of race fans by a major publication, Martinsville Speedway was voted as the top bargain in all of Sprint Cup racing as well as the track having the best view of the action.

Now owned by International Speedway Corporation, Martinsville Speedway conducts three major race event weekends each year. The track annually hosts the STP 500 and the Goody's® Headache Relief Shot® 500 Powered by Kroger NASCAR Sprint Cup Series races, the Kroger 250 and Kroger 200 NASCAR Camping World Truck Series races and the Virginia is for Racing Lovers 300 NASCAR Late Model Stock Car race.
For ticket information call 1-877-RACETIX. To receive additional information on the Martinsville Speedway visit www.martinsvillespeedway.com.

Martinsville Mustangs Baseball
The Martinsville Mustangs is a part of the Coastal Plains League (CPL), a collegiate summer league featuring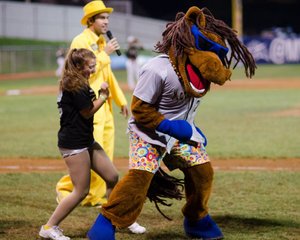 college players from across the country. The CPL features 14 teams across Virginia, North Carolina, and South Carolina. Since its creation, the league has worked to provide a successful environment for amateur baseball players as they work toward the dream of making it to the big leagues.
Popular promotions attract people to Hooker Field and keep them entertained between innings of America's favorite pastime. According to national reports by Ballpark Digest, the Martinsville Mustangs ranked 16th out of 160 other summer collegiate baseball organizations in the country for their average game attendance of 1,601 in 2013.
We look forward to seeing what the Mustangs have in store for us in the upcoming season!
For more information on the Martinsville Mustangs and a schedule of games, please visit the team's website at www.martinsvillemustangs.com.

Smith River Sports Complex

A 90-acre multi-use sports development operated by the Southern Virginia Recreation Facilities Authority and funded by a grant from The Harvest Foundation of the Piedmont. Facility amenities include:
90 acre multi-use sports development facility
2 FieldTurf Synthetic Fields (120 X 75 yds) with Championship Bleacher seating for 250 on each field
3 fully irrigated Bermuda T-10 Grass Fields (120 X 75 yds)
1 practice field
All game fields have state-of-the-art drainage systems filtering back into an Irrigation Pond with a scenic fountain
Musco Sports Lighting on all game fields
SunTrust Pavilion with meeting space and restrooms
Full service Concessions Building (550 sq. ft.)
Benny Summerlin Legacy Courtyard
2 picnic pavilions
Open air picnic areas
Upper strength and core building Evos Playground on synthetic play surface
Paved, scenic walking paths
Smith River access point
Hiking trails along the Smith River
The complex hosts youth matches, college and high school tournaments, camps and other events. The fields are available by reservation only for field sports such as soccer, lacrosse, Ultimate Frisbee and other outdoor events.
Visit their website to see a calendar of events and learn more: www.smithriversportscomplex.com
Virginia International Raceway

Whether you are a race fan, professional driver, a karting enthusiast, or are responsible for planning club or corporate events, VIR has something for you! VIRginia International Raceway, located in Southern Virginia between Danville and South Boston, is one of the world's finest road courses. VIR hosts pro and club car and motorcycle races, a wide range of racing and riding schools, track days for cars and bikes, club events, off road driving, drifting and private test rentals. VIR truly is America's Motorsport Resort!

1245 Pine Tree Road
Alton, VA
434-822-7700
http://www.experiencevir.com