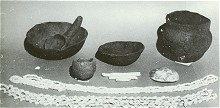 During the 1500's and 1600's, it is likely that small groups of the Saura Indian tribe lived in the area encompassing Martinsville and Henry County. This is supported by artifacts found in archeological digs throughout the county. William Byrd found no evidence of Indians living in the area in 1728, when he surveyed the Virginia / North Carolina border region. The Irvine (now Smith) and Mayo Rivers were named in honor of the Byrd party's two surveyors.
In the mid-1700's, the forts of Mayo and Trial were built as part of a line of forts constructed to protect the settlers from Indians throughout the colonies. Fort Trial was on the Smith River, at the mouth of Reed Creek, near the town that today is called Martinsville. George Washington visited both of these remote outposts during his 1756 inspection of frontier forts.
Early roads played an important role in the settlement early growth of the region. The Pennsylvania Wagon Road, following the old Iroquois Indian War Trail, came right through the area that is today called Henry County. Settlers came to the area via that road, bringing with them their knowledge of tobacco growing.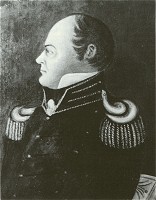 The land that makes up Henry County today was part of several different counties over the years, including Brunswick, Lunenberg, Halifax, Pittsylvania, and Patrick. After Henry County made its final split from Patrick County, Henry County Courthouse was established on June 27, 1791. Later, Henry County Courthouse changed its name to Martinsville, in honor of General Joseph Martin - a longtime resident of the area, distinguished Revolutionary War figure, and member of the Virginia General Assembly.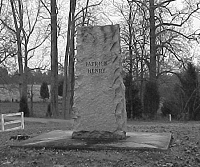 Patrick Henry lived here from 1778 until 1784. He became the first elected governor of Virginia in 1776. In 1779, he moved to his 10,000 acre Leatherwood plantation seeking refuge after being criticized for letting British forces under General Tarleton overrun Virginia. A two-room brick house was built and he began farming. He practiced law here during those years. In 1780, Henry County, named in his honor, sent him as its representative to the House of Delegates. He moved back to Richmond in 1784 when elected to his fourth one-year term as governor. Today, a boulder and plaque mark the location of his Leatherwood home.
George Hairston, a member of the Colonial Convention of 1792, which adopted the U.S. Constitution, became the largest land and slave owner in the state of Virginia during the late 1700's. At one time, he owned 238,000 acres in Henry County alone. When they were married, ten of his children received an estate in land and slaves valued at $500,000. Many areas of the county still retain the names of his children's "plantations", including Beaver Creek and Chatmoss.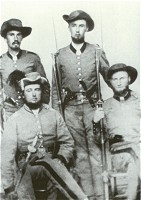 Prior to the Civil War, contrary to popular misconception, Virginia broke away from the Union - not so much to defend slavery - but in protest of the North's interference with States' Rights. By 1860, only one in four Virginians owned slaves, with only 14 having as many as 100. But the largest slave owner at that time was a Henry County man, Samuel Hairston, who owned about 1600 slaves on various plantations in the area.
Today, many citizens of Martinsville and Henry County are descendants from the slavery era. Slaves of Peyton Gravely, of Leatherwood (eastern part of the county) took the "Gravely" name and many of their descendants live today in the same Leatherwood community as their ancestors. The family names of Martin, Hairston, and others were adopted as these citizens began their challenging transition from slavery to freedom.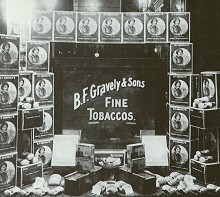 During the late 1800's and early 1900's, the area's tobacco industry began to flourish. Tobacco was the money crop for Martinsville and Henry County, even before the Civil War. Later, small factories were established to make plug tobacco - a popular tobacco product of that time. In 1900, there were as many as 14 such plug tobacco factories in Martinsville. But by 1910, these factories gave way to the larger tobacco companies in nearby North Carolina. Many were bought out or went out of business as consumer tobacco preferences shifted toward cigarettes instead of the less fashionable chewing tobacco "plugs". Although the tobacco factories have disappeared, the tobacco crop remains today as an important agricultural crop in the region.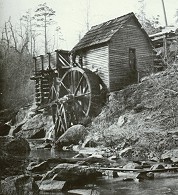 Corn and wheat were other important crops raised in the area. In 1889, a published directory listed 22 corn and flour mills throughout the county. Today, the ruins of many of these mills can be seen, although none are in operation. One of the area's most famous attractions, Mabry Mill in nearby Floyd County, is still in operation for Blue Ridge Parkway tourists in the summer and fall months. The mill pictured here is Wray's Mill on Grassy Creek (1905).
Railroads played an important part in the early economic development of Martinsville and Henry County. Martinsville stood at the "intersection" of the Norfolk & Western and Danville & Western railway routes. The railroads not only improved transportation and trade, but fostered the importation of important technologies like electricity, telegraph, and telephone.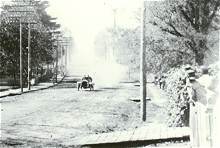 In 1906, Glidden Tours (in conjunction with the New York Herald newspaper) sponsored cross-country automobile trips to prove that the automobile could be a dependable, long distance vehicle. They carefully planned and marked a route called "The National Highway" between New York City and Jacksonville, Florida. The National Highway came right through the centers of Martinsville and Ridgeway, arousing much interest as these new motor car contraptions occasionally made their way through town. This picture (at left) shows one of the tour cars in 1909, roaring through the dirt streets of Martinsville as the curious crowd looks on.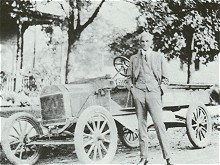 Henry Ford and Harvey Firestone traveled the National Highway through Martinsville in 1910, and Mr. Ford posed for this picture (right).
Soon, local residents began purchasing cars of their own. By 1911, a maximum speed limit of 12 miles per hour was imposed throughout the city of Martinsville. For night driving, a lantern was required on the front of the car - a red lantern for the rear.
The first permanent airport was established just 1 block south of the City Square by G. T. Lester, founder of Lester Lumber Company. As the city grew, a second "new" airport was built south of Martinsville near the Martinsville Speedway.
As tobacco manufacturing ceased to flourish in the early 1900's, the area's furniture industry was born. Bassett, Hooker, and American Furniture companies were established by industrious individuals, financed by local citizens. Good rail transportation, proximity to native hardwoods, and dedicated people willing to work were all key ingredients in the creation of this new industry. Stanley, Hooker, and Gravely Furniture companies were established soon thereafter, as well as many other businesses who manufactured furniture components.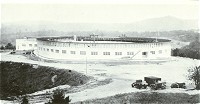 Lester Lumber Company had been established earlier, in 1896, for many of these same reasons - founded by G. T. Lester. After fire destroyed the company in 1919, it was rebuilt and a 2,000,000 gallon water reservoir was built on the high hill above to serve as fire protection for the new plant. This reservoir was also used as a community swimming pool. Liberty Heights Pool served as a very popular attraction to the area for many people until it closed in the 1950's. It was later demolished to make room for the Liberty Fair Mall.
During the same period, textile and apparel companies, including Pannill Knitting, Sale Knitting, and Bassett-Walker Knitting were established. These companies flourished throughout most of the 20th Century.
Today, Martinsville and Henry County are proud of their rich heritage. The families of this community have seen enormous change over the last 150 years. Their creative ability to persevere and adapt to these changes is one of the most enduring qualities of our community.
Credits - many photos and excerpts taken from the book Martinsville & Henry County - Historic Views by the Martinsville-Henry County Woman's Club.